KY02111
CAS No. :

1118807-13-8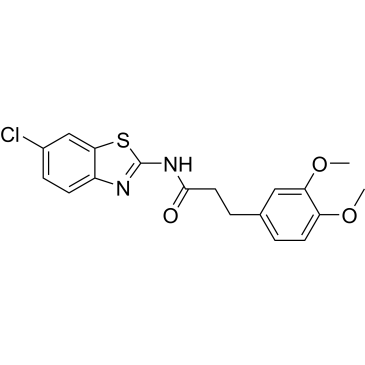 | | |
| --- | --- |
| Cat. No. : | CS-1975 |
| M. Wt. : | 376.86 |
Size
Stock
Price
Quantity
Add to Cart
Quotation Online

10mg

In-stock

$

72.0

72.0

50mg

In-stock

$

288.0

288.0
Products are for research use only. Not for human use. We do not sell to patients.
Your information is safe with us. * Required Fields
Data Sheet

Introduction

SDS

COA & Spectra
| | |
| --- | --- |
| Name: | KY02111; |
| Cat. No. : | CS-1975 |
| CAS No. : | 1118807-13-8 |
| Formula: | C18H17ClN2O3S |
| M. Wt. : | 376.86 |
| Solubility: | 10 mM in DMSO |
Download Data Sheet
Activity:
KY02111 is a small molecule which can promote differentiation of hPSCs to cardiomyocytes. IC50 value: Target: Wnt signaling inhibitor KY02111 Induces downregulation of Wnt signaling target genes; inhibits canonical Wnt signaling in a manner distinct from other known Wnt inhibitors. KY02111 (10 μM) increases the ratio of beating cardiac colonies as much as 70%-94% in cell aggregates of two hESC lines (KhES-1 and KhES-3), four hiPSC lines (253G1, IMR90-1, IMR90-4, and RCHIPC0003), and a mouse ESC line (R1). KY02111 (10 μM) results in 73%-85% postive IMR90-1 hiPSCs expressing the cardiac markers, cardiac troponin T (cTnT), αActinin, or NKX2.5, whereas only a few DMSO-treated cells are positive for the markers. KY02111 (10 μM) results in 16% postive IMR90-1 hiPSCs expressing the cardiac pacemaker marker, HCN4, whereas the ratio of Vimentin-positive cells (fibroblasts) decreases 3.3-fold. KY02111-induced cardiomyocytes (KY-CMs) expresses the cardiac markers, αMHC, NKH2.5, and HCN4, and that all of the ion channel genes examined are expressed at levels similar to those of adult heart tissue. KY02111 (10 μM) downregulates the expression of 72.7% target genes of canonical WNT signaling in IMR90-1 hiPSCs, suggesting that KY02111 inhibits canonical WNT signaling in hPSCs. KY02111 (10 μM) clearly reduces luciferase activities in both IMR90-1 hiPSCs and HEK293 cells in a dose-dependent manner in the TOPflash assay. KY02111 (10 μM-25 μM) increases cardiac differentiation about 80-fold in transgenic monkey ESCs compared to the control and does not show toxicity to cells even at high concentration. KY02111 (10 μM) significantly reduces luciferase activity in the TOPflash assay in SW480 cells, whereas XAV939 and IWP-2 does not. KY02111 (10 μM) dramatically reduces luciferase activity induced by GSK3β inhibitor BIO in SW480 cells, compared to that of XAV939 and IWP-2. KY02111 alone produces approximately 80% cTnT-positive cells, KY02111 in combination with other WNT inhibitors does not significantly increase differentiation efficiency, which shows that KY02111 effectively produces a high proportion of functional cardiomyocytes from hPSCs [1].
Protocol:
Cell assay (Microarray) [1] IMR90-1 iPSCs were cultured in cardiac differentiation medium containing serum. On day 3, cells were treated with 10 μM KY02111 or 0.1% DMSO for 0, 12, or 24 hr. Nontreated cells (0 hr), cells treated with KY02111 for 12 hr (KY12hr) or 24 hr (KY24hr), and cells treated with 0.1% DMSO for 12 hr (DMSO12hr) or 24 hr (DMSO24hr) were used for microarray analysis using the Human Gene 1.0 ST array. For analysis of Distant Regulating Elements of co-regulated genes (DiRE analysis), all downregulated genes (based on the KY12hr/DMSO12hr ratio) were analyzed using the web-based program.
References:
Minami I, et al. A small molecule that promotes cardiac differentiation of human pluripotent stem cells under defined, cytokine- and xeno-free conditions. Cell Rep. 2012 Nov 29;2(5):1448-60.
We apologize for the inconvenience. The Certificate of Analysis you requested is not currently available on-line:
1. The Lot Number you requested may have been entered incorrectly. How to get a Lot Number
2. The COA of the Lot you requested has not been added to our database.
Tags:KY02111 supplier,KY02111 purchase,KY02111 manufacturer,KY02111 sigma,KY02111 distributor,cost,KY02111 buy,KY02111 for sale