Omadacycline hydrochloride
CAS No. :

1196800-39-1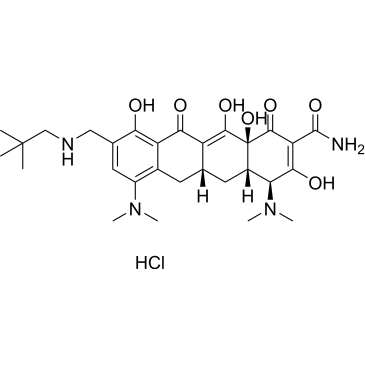 | | |
| --- | --- |
| Cat. No. : | CS-6352 |
| M. Wt. : | 593.11 |
Size
Stock
Price
Quantity
Add to Cart
Quotation Online

5mg

In-stock

$

312.0

312.0

10mg

In-stock

$

540.0

540.0

50mg

In-stock

$

1800.0

1800.0
Products are for research use only. Not for human use. We do not sell to patients.
Your information is safe with us. * Required Fields
Data Sheet

Introduction

SDS

COA & Spectra
| | |
| --- | --- |
| Name: | Omadacycline hydrochloride; PTK0796 hydrochloride; Amadacycline hydrochloride |
| Cat. No. : | CS-6352 |
| CAS No. : | 1196800-39-1 |
| Formula: | C29H40N4O7.HCl |
| M. Wt. : | 593.11 |
| Solubility: | DMSO |
Download Data Sheet
Activity:
Omadacycline hydrochloride is novel, aminomethyl tetracycline antibiotic being developed for the treatment of community-acquired bacterial infections. The ED50 for Escherichia coli is 2.02 mg/kg. IC50 & Target: ED50: 2.02 mg/kg (Escherichia coli), 0.30-1.74 mg/kg (Staphylococcus aureus)[1] In Vitro: The omadacycline MIC90s for MRSA, VRE, and beta-hemolytic streptococci are 1.0 μg/mL, 0.25 μg/mL, and 0.5 μg/mL, respectively, and the omadacycline MIC90s for PRSP and H. influenzae are 0.25 μg/ml and 2.0 μg/mL, respectively. Omadacycline is active against organisms demonstrating the two major mechanisms of resistance, ribosomal protection and active tetracycline efflux[1]. Omadacycline inhibits protein synthesis while having no significant effect on RNA, DNA and peptidoglycan synthesis. Further, omadacycline binds to the tetracycline binding site on the 30S subunit of the bacterial ribosome with enhanced binding similar to tigecycline based on additional molecular interactions[2]. In Vivo: In vivo efficacy of omadacycline is demonstrated using an intraperitoneal infection model in mice. A single intravenous dose of omadacycline exhibits efficacy against Streptococcus pneumoniae, Escherichia coli, and Staphylococcus aureus, including tet (M) and tet (K) efflux-containing strains and MRSA strains. The 50% effective doses (ED50s) for Streptococcus pneumoniae obtained ranged from 0.45 mg/kg to 3.39 mg/kg, the ED50s for Staphylococcus aureus obtained ranges from 0.30 mg/kg to 1.74 mg/kg, and the ED50 for Escherichia coli is 2.02 mg/kg[1].
Protocol:
Animal Administration:
Omadacycline is dissolved in sterile saline.
[1]
Mouse: Omadacycline is dissolved in sterile saline. Mice are infected using a 3-mL lock-top sterile syringe with a sterile 25-gauge, 5/8-in. needle. At 1 h postinfection (p.i.), mice are dosed intravenously (i.v.) with omadacycline or comparator compounds of interest at a volume of 10 ml/kg. A minimum of four dose levels are tested per experiment with 5 mice/group. The typical doses tested ranges from 0.11 to 18 mg/kg of body weight, with exceptions for comparators that requires significantly higher or lower doses to achieve 50% efficacy
[1]
.
References:
Macone AB, et al. In vitro and in vivo antibacterial activities of omadacycline, a novel aminomethylcycline. Antimicrob Agents Chemother. 2014;58(2):1127-35.
Tanaka SK, et al. Discovery, pharmacology, and clinical profile of omadacycline, a novel aminomethylcycline antibiotic. Bioorg Med Chem. 2016 Dec 15;24(24):6409-6419.
We apologize for the inconvenience. The Certificate of Analysis you requested is not currently available on-line:
1. The Lot Number you requested may have been entered incorrectly. How to get a Lot Number
2. The COA of the Lot you requested has not been added to our database.
Tags:Omadacycline hydrochloride supplier,Omadacycline hydrochloride purchase,Omadacycline hydrochloride manufacturer,Omadacycline hydrochloride sigma,Omadacycline hydrochloride distributor,cost,Omadacycline hydrochloride buy,Omadacycline hydrochloride for sale