Avacopan
CAS No. :

1346623-17-3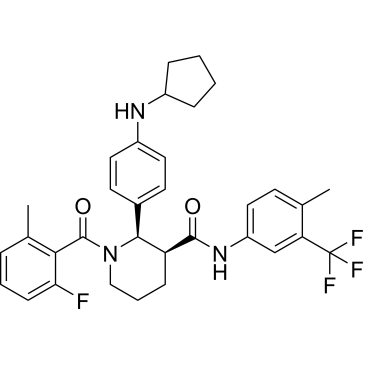 | | |
| --- | --- |
| Cat. No. : | CS-6888 |
| M. Wt. : | 581.64 |
Size
Stock
Price
Quantity
Add to Cart
Quotation Online

5mg

In-stock

$

120.0

120.0

10mg

In-stock

$

180.0

180.0

50mg

In-stock

$

540.0

540.0

100mg

In-stock

$

1008.0

1008.0
Products are for research use only. Not for human use. We do not sell to patients.
Your information is safe with us. * Required Fields
Data Sheet

Introduction

SDS

COA & Spectra
| | |
| --- | --- |
| Name: | Avacopan; CCX168 |
| Cat. No. : | CS-6888 |
| CAS No. : | 1346623-17-3 |
| Formula: | C33H35F4N3O2 |
| M. Wt. : | 581.64 |
| Solubility: | DMSO: ≥ 10.1 mg/mL |
Download Data Sheet
Activity:
Avacopan (CCX168) is a potent, selective and orally available complement 5a receptor inhibitor with an IC50 of 0.1 nM. IC50 & Target: IC50: 0.1 nM (complement 5a receptor )[1] In Vitro: CCX168 displaces [125I]-C5a binding to C5aR on a human myeloid cell line (U937) with a potency (IC50) of 0.1 nM. CCX168 inhibits C5a-mediated chemotaxis of U937 cells with a potency (the concentration of CCX168 that produces a 2-fold right-shift in C5a activity) of 0.2 nM. CCX168 competitively and selectively blocked C5a-induced calcium mobilization in purified human neutrophils, with an IC50 value of 0.2 nM. CCX168 inhibited C5a-induced release of reactive-oxygen species from isolated neutrophils, and is able to completely block respiratory burst in these neutrophils[1]. In Vivo: CCX168 is shown to be well tolerated across a broad dose range (1 to 100 mg) and it showed dose-dependent pharmacokinetics. An oral dose of 30 mg CCX168 given twice daily blocked the C5a-induced upregulation of CD11b in circulating neutrophils by 94% or greater throughout the entire day, demonstrating essentially complete target coverage. In mice dosed orally with 0.03 mg/kg of CCX168, the resulting plasma CCX168 concentration of 15 nM (8.7 ng/mL) reduces the drop in circulating leukocytes from 53% to 25%. In mice administered 0.3 mg/kg of CCX168, the resulting plasma CCX168 concentration of 75 nM (44 ng/mL) reduces the drop in circulating leukocytes from 53% to only 10% relative to baseline (p<0.05 for CCX168 vs. vehicle control). Oral doses of CCX168 of either 3 or 30 mg/kg completely blocks C5a-induced leukopenia in hC5aR knock-in mice[1]. Oral CCX168, 30 mg/kg daily, reduces the severity of anti-MPO NCGN in hC5aR mice. Glomerular crescents are reduced from 30.4% to 3.3% with CCX168. Urine hematuria, proteinuria, and leukocyturia are reduced in mice receiving CCX168, 30 mg/kg per day. The protection by CCX168 results in reduced crescents and necrosis[2].
Protocol:
Animal Administration:
CCX168 is prepared in PEG-400/solutol-HS15 70:30.
[1]
Mice: Human C5aR knock-in mice are dosed with vehicle (PEG-400/solutol-HS15 70:30, 5 mL/kg) or CCX168 by oral gavage. One hour after dosing, C5a (20 μg/kg, 0.1 mL dose volume) is injected intravenously and blood samples collected from retro-orbital eye bleeds. Blood leukocyte levels are analyzed by flow cytometry
[1]
.
References:
Bekker P, et al. Characterization of Pharmacologic and Pharmacokinetic Properties of CCX168, a Potent and Selective Orally Administered Complement 5a Receptor Inhibitor, Based on Preclinical Evaluation and Randomized Phase 1 Clinical Study. PLoS One. 2016 Oct 21;11(10):e0164646.
Xiao H, et al. C5a receptor (CD88) blockade protects against MPO-ANCA GN. J Am Soc Nephrol. 2014 Feb;25(2):225-31.
We apologize for the inconvenience. The Certificate of Analysis you requested is not currently available on-line:
1. The Lot Number you requested may have been entered incorrectly. How to get a Lot Number
2. The COA of the Lot you requested has not been added to our database.
Tags:Avacopan supplier,Avacopan purchase,Avacopan manufacturer,Avacopan sigma,Avacopan distributor,cost,Avacopan buy,Avacopan for sale