(+)-JQ1 PA
CAS No. :

2115701-93-2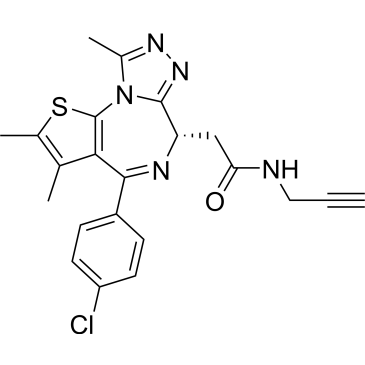 | | |
| --- | --- |
| Cat. No. : | CS-0064464 |
| M. Wt. : | 437.95 |
Size
Stock
Price
Quantity
Add to Cart
Quotation Online

5mg

In-stock
USD

140.0

140.0

10mg

In-stock
USD

220.0

220.0

25mg

In-stock
USD

420.0

420.0

50mg

In-stock
USD

710.0

710.0

100mg

In-stock
USD

1300.0

1300.0
Products are for research use only. Not for human use. We do not sell to patients.
Your information is safe with us. * Required Fields
Data Sheet

Introduction

SDS

COA & Spectra
| | |
| --- | --- |
| Name: | (+)-JQ1 PA; |
| Cat. No. : | CS-0064464 |
| CAS No. : | 2115701-93-2 |
| Formula: | C22H20ClN5OS |
| M. Wt. : | 437.95 |
| Solubility: | 10 mM in DMSO |
Download Data Sheet
Activity:
(+)-JQ1 PA is a derivative of the Bromodomain and extra-terminal (BET) inhibitor JQ1, with an IC50 of 10.4 nM. IC50 & Target: 10.4 nM (BET)[1]. In Vitro: (+)-JQ1 PA is a derivative of JQ1, which is the inhibitor of BET. The IC50 of (+)-JQ1 PA for BET is 10.4 nM, and the IC50 of JQ1 is 14.3 nM in MV4;11 cells[1].
Protocol:
Cell Assay:
[1]
Proliferation of
MV4;11 cells
after 72 hours of treatment, comparing JQ1 versus
JQ1-PA
are tested. Cell cycle profile of MV4;11 cells after 48 hours of treatment with DMSO, JQ1,
JQ1-PA
, or JQ1-TCO (all compounds used at
500 nM
) are tested
[1]
.
References:
Tyler DS, et al. Click chemistry enables preclinical evaluation of targeted epigenetic therapies. Science. 2017 Jun 30;356(6345):1397-1401.
We apologize for the inconvenience. The Certificate of Analysis you requested is not currently available on-line:
1. The Lot Number you requested may have been entered incorrectly. How to get a Lot Number
2. The COA of the Lot you requested has not been added to our database.
Tags:(+)-JQ1 PA supplier,(+)-JQ1 PA purchase,(+)-JQ1 PA manufacturer,(+)-JQ1 PA sigma,(+)-JQ1 PA distributor,cost,(+)-JQ1 PA buy,(+)-JQ1 PA for sale