Purvalanol A
CAS No. :

212844-53-6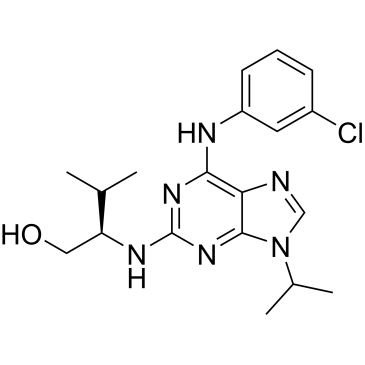 | | |
| --- | --- |
| Cat. No. : | CS-4001 |
| M. Wt. : | 388.89 |
Size
Stock
Price
Quantity
Add to Cart
Quotation Online

10mg

In-stock

$

84.0

84.0

50mg

In-stock

$

192.0

192.0

100mg

In-stock

$

264.0

264.0

200mg

In-stock

$

432.0

432.0

500mg

In-stock

$

864.0

864.0

1g

In-stock

$

1188.0

1188.0
Products are for research use only. Not for human use. We do not sell to patients.
Your information is safe with us. * Required Fields
Data Sheet

Introduction

SDS

COA & Spectra
| | |
| --- | --- |
| Name: | Purvalanol A; NG-60 |
| Cat. No. : | CS-4001 |
| CAS No. : | 212844-53-6 |
| Formula: | C19H25ClN6O |
| M. Wt. : | 388.89 |
| Solubility: | 10 mM in DMSO |
Download Data Sheet
Activity:
Purvalanol A is a potent CDK inhibitor, which inhibits cdc2-cyclin B, cdk2-cyclin A, cdk2-cyclin E, cdk4-cyclin D1, and cdk5-p35 with IC50s of 4, 70, 35, 850, 75 nM, resepctively. IC50 & Target: IC50: 4 nM (cdc2-cyclin B), 70 nM (cdk2-cyclin A), 35 nM (cdk2-cyclin E), 850 nM (cdk4-cyclin D1), 75 nM (cdk5-p35)[1] In Vitro: Purvalanol A inhibits cdc28 (S. cerevisiae) and erk1 with IC50s of 80 and 9000 nM. Purvalanol A shows inhibitory activities against the NCI panel of 60 human tumor cell lines, with average GI50 of 2 μM; two cell lines show an ∼20-fold increase in sensitivity to purvalanol A: the KM12 colon cancer cell line with a GI50 of 76 nM and the NCI-H522 non–small cell lung cancer cell line with a GI50 of 347 nM[1]. Purvalanol A is a 2.5-fold more potent inhibitor of CDK2, but also inhibits DYRK1A potently and a number of other protein kinases in the low micromolar range. Purvalanol A inhibits MKK1, MAPK2/ERK2, JNK/SAPK1c with IC50s of 80, 26, 84 μM[2]. Purvalanol A selectively inhibits the phosphorylation of cellular proteins. Purvalanol A prevents the increases of the contents of cyclins D and E during serum-induced G1 phase progression. Purvalanol A does not inhibit transcription under cell-free conditions[3].
Protocol:
Cell assay [4] Cell lines were treated with purvalanol A, PP2, roscovitine or DMSO as a control. After 24 h, cells were collected, fixed in 70% ethanol and stained with propidium iodide. Acquisition was carried out on a FACS can flow cytometer (Becton Dickinson) to identify apoptotic cells with <2N DNA content. In addition, apoptosis was detected by Western blotting with anti-cleaved-caspase 3.
References:
Bain J, et al. The specificities of protein kinase inhibitors: an update. Biochem J. 2003 Apr 1;371(Pt 1):199-204.
Gray NS, et al. Exploiting chemical libraries, structure, and genomics in the search for kinase inhibitors. Science. 1998 Jul 24;281(5376):533-8.
Villerbu N, et al. Cellular effects of purvalanol A: a specific inhibitor of cyclin-dependent kinase activities. Int J Cancer. 2002 Feb 20;97(6):761-9.
We apologize for the inconvenience. The Certificate of Analysis you requested is not currently available on-line:
1. The Lot Number you requested may have been entered incorrectly. How to get a Lot Number
2. The COA of the Lot you requested has not been added to our database.
Other Forms
(In-stock)
Tags:Purvalanol A supplier,Purvalanol A purchase,Purvalanol A manufacturer,Purvalanol A sigma,Purvalanol A distributor,cost,Purvalanol A buy,Purvalanol A for sale