Ferulic acid sodium
CAS No. :

24276-84-4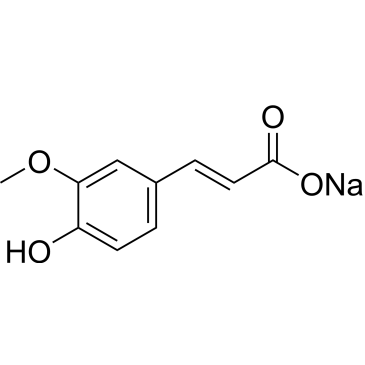 | | |
| --- | --- |
| Cat. No. : | CS-5275 |
| M. Wt. : | 216.17 |
Size
Stock
Price
Quantity
Add to Cart
Quotation Online

1g

In-stock

$

78.0

78.0

5g

In-stock

$

216.0

216.0
Products are for research use only. Not for human use. We do not sell to patients.
Your information is safe with us. * Required Fields
Data Sheet

Introduction

SDS

COA & Spectra
| | |
| --- | --- |
| Name: | Ferulic acid sodium; Sodium ferulate |
| Cat. No. : | CS-5275 |
| CAS No. : | 24276-84-4 |
| Formula: | C10H9NaO4 |
| M. Wt. : | 216.17 |
| Solubility: | DMSO: 16.66 mg/mL |
Download Data Sheet
Activity:
Ferulic acid (4-hydroxy-3-methoxycinnamic acid) is a phenolic compound present in several plants with claimed beneficial effects in prevention and treatment of disorders linked to oxidative stress and inflammation. IC50 value: Target: 5-HT Receptor In vitro: In the present study we have showed that pre-treatment with Ferulic Acid (FA) reduces NO accumulation in the culture medium of LPS-induced macrophage cells. Moreover, real-time experiments have revealed that FA has an inhibitory effect at the transcriptional level on the expression of some inflammatory mediators such as IL-6, TNF-α and iNOS and an activation effect on the expression of some antioxidant molecules such as Metallothioneins (MT-1, MT-2). Importantly, we have found that FA reduced the translocation of NF-E2-related factor 2 (Nrf2) and nuclear transcription factor-κB (NF-κB) into the nuclei through a reduction of the expression of phosphorylated IKK and consequently inhibited IL-6 and NF-κB promoter activity in a luciferase assay [1]. FA treatment significantly, although not completely, protected the cells against lead acetate-induced neurite outgrowth inhibition. The effects of FA could be blocked by PD98059, zinc protoporphyrin (Zn-PP), and Nrf2 shRNA. In addition, FA induced heme oxygenase 1 (HO-1) gene expression, enhanced antioxidant response element (ARE) promoter activity, promoted ERK1/2 phosphorylation, and Nrf2 translocation in PC12 cells exposed to lead acetate. ERK1/2 locate upstream of Nrf2 and regulate Nrf2-dependent HO-1 expression in antioxidative effects of FA [2]. In vivo: We aimed to verify the possible antidepressant-like effect of acute oral administration of Ferulic acid produced an antidepressant-like effect in the FST and TST (0.01–10 mg/kg, p.o.), without ccompanying changes in ambulation. The pretreatment of mice with WAY100635 (0.1 mg/kg, s.c., a selective 5-HT1A receptor ntagonist) or ketanserin (5 mg/kg, i.p., a 5-HT2A receptor ntagonist) was able to reverse the anti-immobility effect of ferulic acid (0.01 mg/kg, p.o.) in the TST. The combination of fluoxetine (5 mg/kg, p.o.), paroxetine (0.1 mg/kg, p.o.) or sertraline (1 mg/kg, p.o.) with a sub-effective dose of ferulic acid (0.001 mg/kg, p.o.) produced a synergistic antidepressant-like effect in the TST, without causing hyperlocomotion in the open-field test. ferulic acid in the forced swimming test (FST) and tail suspension test (TST) in mice [3].
Protocol:
Animal administration [3] In order to investigate the antidepressant-like effect of ferulic acid, it was administered at a dose range of 0.001–10 mg/kg, by oral route (p.o.) 60 min before the FST, TST or open-field test. To address some of the mechanisms by which ferulic acid exerts antidepressant-like action in the TST, animals were pre-treated with different pharmacological agents. To investigate a possible contribution of the serotonergic system (5-HT receptor subtypes) in the antidepressant-like effect of ferulic acid, animals were pretreated with WAY100635 (0.1 mg/kg, a selective 5-HT1A receptor antagonist) by subcutaneous route (s.c.), ketanserin (5 mg/kg, a preferential 5-HT2A receptor antagonist) by intraperitoneal route (i.p.), or vehicle and after 30 min, received ferulic acid (0.01 mg/kg, p.o.) or vehicle before being tested in the TST 60 min later. The drugs were administered in a volume of 10 mL/kg body weight.
References:
Lampiasi N, et al. The molecular events behind ferulic acid mediated modulation of IL-6 expression in LPS-activated Raw 264.7 cells. Immunobiology. 2015 Nov 10.
Yu CL, et al. Ferulic Acid Protects Against Lead Acetate-Induced Inhibition of Neurite Outgrowth by Upregulating HO-1 in PC12 Cells: Involvement of ERK1/2-Nrf2 Pathway. Mol Neurobiol. 2015 Nov 26.
Ana Lúcia B. Zeni, et al. Ferulic acid exerts antidepressant-like effect in the tail suspension test in mice: Evidence for the involvement of the serotonergic system. European Journal of Pharmacology 679 (2012) 68–74
We apologize for the inconvenience. The Certificate of Analysis you requested is not currently available on-line:
1. The Lot Number you requested may have been entered incorrectly. How to get a Lot Number
2. The COA of the Lot you requested has not been added to our database.
Tags:Ferulic acid sodium supplier,Ferulic acid sodium purchase,Ferulic acid sodium manufacturer,Ferulic acid sodium sigma,Ferulic acid sodium distributor,cost,Ferulic acid sodium buy,Ferulic acid sodium for sale