(-)-Gallocatechin gallate
CAS No. :

4233-96-9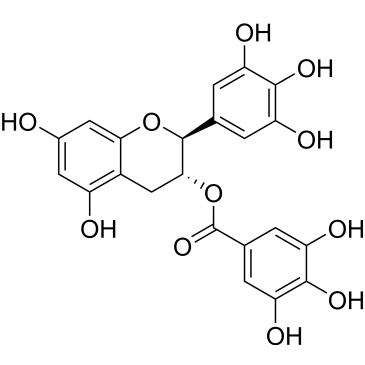 | | |
| --- | --- |
| Cat. No. : | CS-7698 |
| M. Wt. : | 458.37 |
Size
Stock
Price
Quantity
Add to Cart
Quotation Online

5mg

In-stock
USD

72.0

72.0

10mg

In-stock
USD

108.0

108.0

25mg

In-stock
USD

216.0

216.0
Products are for research use only. Not for human use. We do not sell to patients.
Your information is safe with us. * Required Fields
Data Sheet

Introduction

SDS

COA & Spectra
| | |
| --- | --- |
| Name: | (-)-Gallocatechin gallate; (-)-Gallocatechol gallate |
| Cat. No. : | CS-7698 |
| CAS No. : | 4233-96-9 |
| Formula: | C22H18O11 |
| M. Wt. : | 458.37 |
| Solubility: | DMSO: ≥ 150 mg/mL |
Download Data Sheet
Activity:
(-)-Gallocatechin gallate is the polyphenol isolated from tea, with cancer-preventive activities. In Vitro: The amount of (-)-Gallocatechin gallate does not differ in leaves of different stages, and the content is relatively low[1]. (−)-gallocatechin gallate in combination with active catechins ((−)-epigallocatechin gallate) has synergistic effects on the induction of apoptosis and inhibition of cell growth for PC-9 cells. (−)-gallocatechin gallate shows inhibitory effect on α-Glucosidase and DPPH, with IC50s of 30.2 μM and 12.2 μg/mL[2].
Protocol:
Cell Assay:
(-)-Gallocatechin gallate is dissolved in DMSO.
[2]
Cell viability is examined by measuring the capability of cells to metabolize MTT to a purple formazan dye. Human liver cancer HepG2 cells are maintained in DMEM medium supplemented with 10% fetal bovine serum, 100 units/mL penicillin, and 50 units/mL streptomycin at 37°C in a humidified incubator with 5% CO
2
atmosphere. Cells are seeded in 96-well tissue culture plates for 24 h and then incubated with the tested compounds at different concentrations for 72 h. After incubation, 25 μL MTT in 5 mg/mL PBS is added and incubated for 4 h. The medium is aspirated and replaced with 150 μL dimethyl sulfoxide (DMSO) to dissolve the formazan salt. The color intensity of the formazan solution, which reflects the cell growth condition, is measured at 570 nm using a microplate spectrophotometer.
References:
Zhou H, et al. C-geranylated flavanones from YingDe black tea and their antioxidant and α-glucosidase inhibition activities. Food Chem. 2017 Nov 15;235:227-233.
Zhang LQ, et al. Accumulation of catechins and expression of catechin synthetic genes in Camellia sinensis at different developmental stages. Bot Stud. 2016 Dec;57(1):31.
We apologize for the inconvenience. The Certificate of Analysis you requested is not currently available on-line:
1. The Lot Number you requested may have been entered incorrectly. How to get a Lot Number
2. The COA of the Lot you requested has not been added to our database.
Tags:(-)-Gallocatechin gallate supplier,(-)-Gallocatechin gallate purchase,(-)-Gallocatechin gallate manufacturer,(-)-Gallocatechin gallate sigma,(-)-Gallocatechin gallate distributor,cost,(-)-Gallocatechin gallate buy,(-)-Gallocatechin gallate for sale