(-)-Blebbistatin
CAS No. :

856925-71-8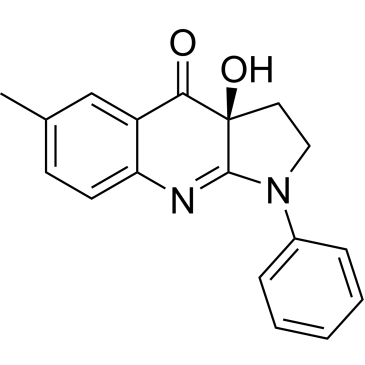 | | |
| --- | --- |
| Cat. No. : | CS-4983 |
| M. Wt. : | 292.33 |
Size
Stock
Price
Quantity
Add to Cart
Quotation Online

5mg

In-stock
USD

72.0

72.0

10mg

In-stock
USD

120.0

120.0

50mg

In-stock
USD

420.0

420.0
Products are for research use only. Not for human use. We do not sell to patients.
Your information is safe with us. * Required Fields
Data Sheet

Introduction

SDS

COA & Spectra
| | |
| --- | --- |
| Name: | (-)-Blebbistatin; (S)-(-)-Blebbistatin |
| Cat. No. : | CS-4983 |
| CAS No. : | 856925-71-8 |
| Formula: | C18H16N2O2 |
| M. Wt. : | 292.33 |
| Solubility: | DMSO: 5.2 mg/mL (Need ultrasonic and warming) |
Download Data Sheet
Activity:
(-)-Blebbistatin is an S enantiomer of blebbistatin. Blebbistatin is a potent and selective myosin II inhibitor with IC50 values ranging from 0.5 to 5 μM. IC50 & Target: IC50: 0.5 to 5 μM (myosin II)[1] In Vitro: Blebbistatin potently inhibits several striated muscle myosins as well as vertebrate nonmuscle myosin IIA and IIB with IC50 values ranging from 0.5 to 5 μM. Smooth muscle myosin is only poorly inhibited (IC50=80 μM)[1]. Blebbistatin does not compete with nucleotide binding to the skeletal muscle myosin subfragment-1. The inhibitor preferentially binds to the ATPase intermediate with ADP and phosphate bound at the active site, and it slows down phosphate release. It blocks the myosin heads in a products complex with low actin affinity[2]. In culture-activated hepatic stellate cells, blebbistatin is found to change both cell morphology and function. Stellate cells become smaller, acquire a dendritic morphology and have less myosin IIA-containing stress fibres and vinculin-containing focal adhesions. Blebbistatin impairs silicone wrinkle formation, reduces collagen gel contraction and blocks endothelin-1-induced intracellular Ca2+ release. It promotes wound-induced cell migration[3]. In Vivo: Blebbistatin dose-dependently and completely relax both KCl- and carbachol-induced rat detrusor and endothelin-1-induced human bladder contraction. Pre-incubation with 10 μM blebbistatin attenuates carbachol responsiveness by 65% while blocking electrical field stimulation-induced bladder contraction reaching 50% inhibition at 32 Hz[4].
Protocol:
Cell Assay:
[3]
Freshly isolated HSCs are replated on 96-well plate. At day 3, medium is replaced by serum-free medium and cells are starved overnight, treated with or without blebbistatin (25 μM) for 2 h followed by stimulation with platelet-derived growth factor-BB (20 ng/mL). After an overnight incubation, the WST-1 cell proliferation assay are performed
[3]
.
References:
Liu Z, et al. Blebbistatin inhibits contraction and accelerates migration in mouse hepatic stellate cells. Br J Pharmacol. 2010 Jan 1;159(2):304-15.
Kovács M, et al. Mechanism of blebbistatin inhibition of myosin II. J Biol Chem. 2004 Aug 20;279(34):35557-63.
Limouze J, et al. Specificity of blebbistatin, an inhibitor of myosin II. J Muscle Res Cell Motil. 2004;25(4-5):337-41.
Zhang X, et al. In vitro and in vivo relaxation of urinary bladder smooth muscle by the selective myosin IIinhibitor, blebbistatin. BJU Int. 2011 Jan;107(2):310-7.
We apologize for the inconvenience. The Certificate of Analysis you requested is not currently available on-line:
1. The Lot Number you requested may have been entered incorrectly. How to get a Lot Number
2. The COA of the Lot you requested has not been added to our database.
Tags:(-)-Blebbistatin supplier,(-)-Blebbistatin purchase,(-)-Blebbistatin manufacturer,(-)-Blebbistatin sigma,(-)-Blebbistatin distributor,cost,(-)-Blebbistatin buy,(-)-Blebbistatin for sale