Ro-3306
CAS No. :

872573-93-8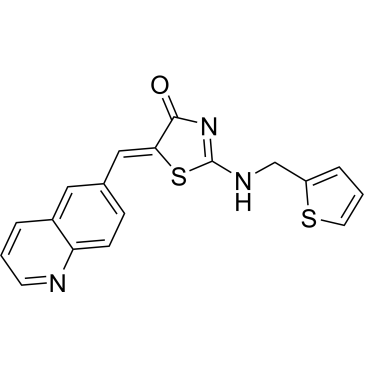 | | |
| --- | --- |
| Cat. No. : | CS-3790 |
| M. Wt. : | 351.45 |
Size
Stock
Price
Quantity
Add to Cart
Quotation Online

5mg

In-stock

$

84.0

84.0

10mg

In-stock

$

119.0

119.0

50mg

In-stock

$

360.0

360.0

100mg

In-stock

$

624.0

624.0
Products are for research use only. Not for human use. We do not sell to patients.
Your information is safe with us. * Required Fields
Data Sheet

Introduction

SDS

COA & Spectra
| | |
| --- | --- |
| Name: | Ro-3306; |
| Cat. No. : | CS-3790 |
| CAS No. : | 872573-93-8 |
| Formula: | C18H13N3OS2 |
| M. Wt. : | 351.45 |
| Solubility: | DMSO: ≥ 47 mg/mL |
Download Data Sheet
Activity:
Ro-3306 is a potent and selective inhibitor of CDK1, with Kis of 20 nM, 35 nM and 340 nM for CDK1, CDK1/cyclin B1 and CDK2/cyclin E, respectively. IC50 & Target: Ki: 20 nM (CDK1), 35 nM (CDK1/cyclin B1), 340 nM (CDK2/cyclin E), 318 nM (PKCδ)[1] In Vitro: RO-3306 is an ATP-competitive inhibitor, and inhibits CDK1/cyclin A complexes with Ki of 110 nM. RO-3306 blocks the cell cycle in the G2/M phase of human cancer cells. RO-3306 (4 μM) induces apoptosis in cancer cells[1]. RO-3306 (5 μM) induces G2/M-phase cell cycle arrest and apoptosis of AML cells in a time-dependent manner. RO-3306 treatment significantly increases the percentage of Annexin V-positive cells in G1-phase cells without affecting the cell cycle distribution. RO-3306 enhances p53-mediated apoptosis. RO-3306 cooperates with Nutlin-3 in activating Bax and inducing mitochondrial apoptosis. RO-3306 (5 μM) downregulates antiapoptotic p21, Bcl-2 and survivin protein expression in AML. RO-3306 inhibits p53-induced p21 synthesis. RO-3306 does not inhibit RNA polymerase II CTD phosphorylation[2]. RO-3306 (10 μM) effectively arrests oocyte maturation. RO-3306 reduces the blastocyst formation in oocytes[3].
Protocol:
Kinase Assay:
[1]
The CDK assays are run by using recombinant human CDK/cyclin complexes (CDK1/cyclin B1, CDK1/cyclin A, CDK2/cyclin E, and CDK4/cyclin D) expressed and isolated from Hi5 insect cells. GST-cyclin B1, CDK1, GST-cyclin-E, CDK2, GST-CDK4, and cyclin D, are used in the assay. The GST-tagged proteins are coexpressed and purified in complex with their partners. All assays use a His-6-tagged fragment of pRB (amino acids 385-928) as a substrate. The protein is expressed from a construct. It is expressed in M15 Escherichia coli cells and bound on a Ni-chalated agarose column pretreated with 1 mM imidazole and eluted with 500 mM imidazole. The eluted protein is dialyzed against 20 mM Hepes, pH 7/6.25 mM MgCl
2
/1.5 mM DTT, aliquoted, and stored at −80°C.
References:
Jang WI, et al. A specific inhibitor of CDK1, RO-3306, reversibly arrests meiosis during in vitro maturation of porcine oocytes. Anim Reprod Sci. 2014 Jan 30;144(3-4):102-8.
Vassilev LT, et al. Selective small-molecule inhibitor reveals critical mitotic functions of human CDK1. Proc Natl Acad Sci U S A. 2006 Jul 11;103(28):10660-5.
Kojima K, et al. Cyclin-dependent kinase 1 inhibitor RO-3306 enhances p53-mediated Bax activation and mitochondrial apoptosis in AML. Cancer Sci. 2009 Jun;100(6):1128-36.
We apologize for the inconvenience. The Certificate of Analysis you requested is not currently available on-line:
1. The Lot Number you requested may have been entered incorrectly. How to get a Lot Number
2. The COA of the Lot you requested has not been added to our database.
Tags:Ro-3306 supplier,Ro-3306 purchase,Ro-3306 manufacturer,Ro-3306 sigma,Ro-3306 distributor,cost,Ro-3306 buy,Ro-3306 for sale