Vemurafenib
CAS No. :

918504-65-1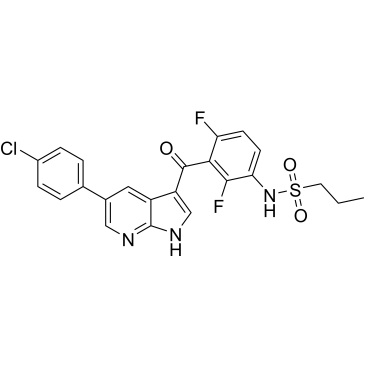 | | |
| --- | --- |
| Cat. No. : | CS-0216 |
| M. Wt. : | 489.92 |
Size
Stock
Price
Quantity
Add to Cart
Quotation Online

50mg

In-stock
USD

108.0

108.0

100mg

In-stock
USD

144.0

144.0

200mg

In-stock
USD

252.0

252.0

500mg

In-stock
USD

420.0

420.0

1g

In-stock
USD

696.0

696.0

2g

In-stock
USD

1152.0

1152.0

5g

In-stock
USD

2220.0

2220.0

10g

In-stock
USD

3960.0

3960.0
Products are for research use only. Not for human use. We do not sell to patients.
Your information is safe with us. * Required Fields
Data Sheet

Introduction

SDS

COA & Spectra
| | |
| --- | --- |
| Name: | Vemurafenib; RG7204; RO5185426; PLX4032 |
| Cat. No. : | CS-0216 |
| CAS No. : | 918504-65-1 |
| Formula: | C23H18ClF2N3O3S |
| M. Wt. : | 489.92 |
| Solubility: | DMSO : 6.2 mg/mL (ultrasonic;warming) |
Download Data Sheet
Activity:
Vemurafenib (RG7204; PLX4032) is a novel and potent inhibitor of B-RAF kinase, with IC50s of 31 and 48 nM for RAFV600E and c-RAF-1, respectively. IC50 & Target: IC50: 31 nM (BRAFV600E), 48 nM (c-RAF-1) In Vitro: Vemurafenib (PLX4032) selectively blocks the RAF/MEK/ERK pathway in BRAF mutant cells[1]. RG7204 is a potent inhibitor of proliferation in those expressing RAFV600E but not BRAFWT in 17 melanoma cell lines. Vemurafenib (RG7204) induces MEK and ERK phosphorylation at high concentrations in CHL-1 cells[2]. Ectopic expression of EGFR in melanoma cells is sufficient to cause resistance to PLX4032[3]. In Vivo: Vemurafenib (PLX4032, 20, 25, 75 mg/kg, p.o.) causes dose-dependent inhibition of tumor growth, with higher exposures resulting in tumor regression of BRAF mutant xenografts[1]. RG7204 (12.5, 25, and 75 mg/kg, p.o.) significantly inhibits tumor growth and induced tumor regression in mice bearing LOX tumor xenografts[2].
Protocol:
Cell Assay:
Vemurafenib (RG7204) is prepared at 10 times the final assay concentration in media containing 1% DMSO.
[2]
Briefly, cells are plated in 96-well microtiter plates at a density of 1,000 to 5,000 cells per well in a volume of 180 μL. For the assay, Vemurafenib (RG7204) is prepared at 10 times the final assay concentration in media containing 1% DMSO. Twenty-four hours after cell plating, 20 μL of the appropriate dilution are added to plates in duplicate. The plates are assayed for proliferation 6 days after the cells are plated according to the procedure.
Animal Administration:
Vemurafenib is dissolved in an aqueous vehicle containing 2% Klucel LF.
[2]
Athymic nude mice, are with ages 13 to 14 weeks, and weighing approximately 23 to 25 g. For the LOX xenografts, 2×10
6
cells in 0.2 mL of PBS are injected s.c. into the right lateral flank. Vemurafenib (RG7204), formulated as MBP, is suspended at the desired concentration as needed for each dose group in an aqueous vehicle containing 2% Klucel LF and adjusted to pH 4 with dilute HCl. NSC 362856 is of 250-mg capsules. Capsules are opened and combined into one bulk supply. To prepare the stock dosing material, NSC 362856 is first dissolved in 100% DMSO followed by dilution with saline to form a final milky white suspension in 10% DMSO/90% saline (pH 3.4).
References:
Yang H, et al. RG7204 (PLX4032), a selective BRAFV600E inhibitor, displays potent antitumor activity in preclinical melanoma models. Cancer Res, 2010, 70(13), 5518-5527.
Prahallad A, et al. Unresponsiveness of colon cancer to BRAF(V600E) inhibition through feedback activation of EGFR. Nature, 2012, 483(7387), 100-103.
Bollag G, et al. Clinical efficacy of a RAF inhibitor needs broad target blockade in BRAF-mutant melanoma. Nature, 2010, 467(7315), 596-599.
We apologize for the inconvenience. The Certificate of Analysis you requested is not currently available on-line:
1. The Lot Number you requested may have been entered incorrectly. How to get a Lot Number
2. The COA of the Lot you requested has not been added to our database.
Tags:Vemurafenib supplier,Vemurafenib purchase,Vemurafenib manufacturer,Vemurafenib sigma,Vemurafenib distributor,cost,Vemurafenib buy,Vemurafenib for sale