AZ7550 hydrochloride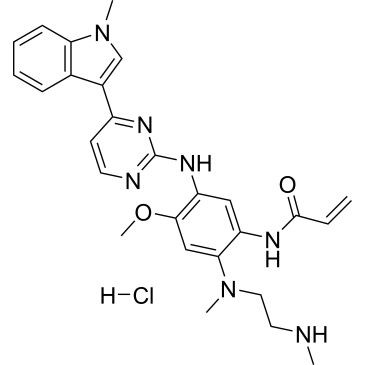 | | |
| --- | --- |
| Cat. No. : | CS-0034377 |
| M. Wt. : | 522.04 |
Size
Stock
Price
Quantity
Add to Cart
Quotation Online

5mg

In-stock

$

280.0

280.0

10mg

In-stock

$

440.0

440.0
Products are for research use only. Not for human use. We do not sell to patients.
Your information is safe with us. * Required Fields
Data Sheet

Introduction

SDS

COA & Spectra
| | |
| --- | --- |
| Name: | AZ7550 hydrochloride; |
| Cat. No. : | CS-0034377 |
| CAS No. : | |
| Formula: | C27H32ClN7O2 |
| M. Wt. : | 522.04 |
| Solubility: | DMSO: 1.88 mg/mL |
Download Data Sheet
Activity:
AZ7550 hydrochloride is an active metabolite of AZD9291 and inhibits the activity of IGF1R with an IC50 of 1.6 μM. IC50 & Target: IC50: 1.6 μM (IGF1R), 88 nM (MLK1), 156 nM (ACK1), 195 nM (ErbB4), 228 nM (MNK2), 302 nM (FLT3), 420 nM (ALK ), 449 nM (FES), 840 nM (IRR), 843 nM (BRK), 977 nM (BLK), 995 nM (FAK), 1256 nM (Ins R), 1317 nM (TEC), 1784 nM (FLT4), 2288 nM (PYK2), 2443 nM (Txk), 5104 nM (BTK)[1] In Vitro: AZ7550 (Compound 28) appeares to offer a broadly similar potency and selectivity profile to the parent compound AZD9291. AZ7550 inhibits double mutant (DM) cell line H1975, activating mutant (AM) cell line PC9, and wild type (WT) cell line LoVo with IC50s of 45, 26, and 786 nM, respectively. AZ7550 inhibits DM antiproliferative cell line H1975, AM antiproliferative cell line PC9, and WT antiproliferative cell line Calu3 with GI50s of 19, 15, and 537 nM, respectively[1].
Protocol:
Kinase Assay:
[1]
Biochemical enzyme profiling of AZD9291 and active metabolites across the kinome panel (single profiling experiment representative of two independent studies). % inhibition for kinases in the ~280 kinase panel that shows greater than 60% inhibition after 1 μM treatment with AZD9291, AZ5104 or AZ7550, and follow-up IC
50
s where tested, are shown. Kinases with a conserved cysteine in the analogous position within their catalytic domain as Cys797 in EGFR are also shown, highlighted in bold
[1]
.
References:
Finlay MR, et al. Discovery of a potent and selective EGFR inhibitor (AZD9291) of both sensitizing and T790M resistance mutations that spares the wild type form of the receptor. J Med Chem. 2014 Oct 23;57(20):8249-67.
We apologize for the inconvenience. The Certificate of Analysis you requested is not currently available on-line:
1. The Lot Number you requested may have been entered incorrectly. How to get a Lot Number
2. The COA of the Lot you requested has not been added to our database.
Tags:AZ7550 hydrochloride supplier,AZ7550 hydrochloride purchase,AZ7550 hydrochloride manufacturer,AZ7550 hydrochloride sigma,AZ7550 hydrochloride distributor,cost,AZ7550 hydrochloride buy,AZ7550 hydrochloride for sale