Bevacizumab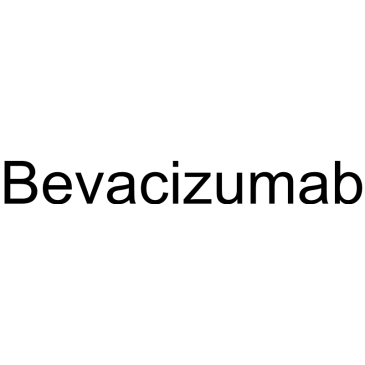 | | |
| --- | --- |
| Cat. No. : | CS-7820 |
| M. Wt. : | 146542.45 |
Size
Stock
Price
Quantity
Add to Cart
Quotation Online

1mg

In-stock

$

192.0

192.0

5mg

In-stock

$

660.0

660.0
Products are for research use only. Not for human use. We do not sell to patients.
Your information is safe with us. * Required Fields
Data Sheet

Introduction

SDS

COA & Spectra
| | |
| --- | --- |
| Name: | Bevacizumab; Anti-Human VEGF, Humanized Antibody |
| Cat. No. : | CS-7820 |
| CAS No. : | |
| Formula: | |
| M. Wt. : | 146542.45 |
| Solubility: | PBS |
Activity:
Bevacizumab, a humanized monoclonal antibody, specifically binds to all VEGF-A isoforms with high affinity. IC50 & Target: VEGF[1] In Vitro: Bevacizumab, a humanized monoclonal antibody, specifically binds to all VEGF-A isoforms with high affinity, and inhibits its interaction with VEGFR-1 and VEGFR-2[1]. Experimental analysis shows that the EC50 of Bevacizumab to bind VEGF analyzed by ELISA is 0.18 μg/mL. Binding kinetics assays show similar results that Bevacizumab inhibits the VEGF-induced proliferation of HUVEC with an IC50 value of 0.047±0.0081 μg/mL[2]. In Vivo: It is demonstrated that the subconjunctival administration of FD006, Bevacizumab and Dexamethasone can all significantly inhibit CoNV in NaOH cauterized rats compared with the control group (p < 0.01)[2]. The combination of NVP-LDE225 and Paclitaxel causes a long-lasting antitumor activity, with a tumor size of 1.64 cm3 at the end of the experiment, whereas Bevacizumab plus Paclitaxel-treated mice reaches the maximum allowed tumor size on day 84[3].
Protocol:
Kinase Assay:
[2]
The binding kinetics of Bevacizumab or FD006 to VEGF is measured using Bio-Layer Inter-Ferometry on Octet RED. The assay is conducted at 30°C in PBS buffer. Sensor tips are pre-wet for 15 mins in buffer immediately prior to use, and the microplates are filled with 200 μL per well of diluted samples (VEGF) or buffer and agitated at 1000 rpm. The anti-human IgG biosensor are pre-saturated with Bevacizumab or FD006 (10 μg/mL) and washed in buffer for 120 seconds, and then transferred to VEGF at concentrations of 10 μg/mL, 3 μg/mL and 1 μg/mL. The VEGF association and dissociation rates are measured for 5mins and 10mins, respectively. The Kinetics parameters (Kon and Koff) and affinities (KD) are calculated from a non-linear global fit using the Octet analysis software. Multiple independent measurements are performed
[2]
.
Cell Assay:
[2]
Human umbilical vein endothelial cells (HUVECs) (1×10
4
cells/100 μL/well) are seeded in 96-well plates and cultured at 37 for 14 h with Endothelial Cell Medium supplemented with 5% heat-inactivated FCS, 100 U/mL Penicillin, 100 U/mL Streptomycin, and endothelial cell growth supplement. After low-serum starvation overnight, cells are treated with different concentrations of FD006 or Bevacizumab which are pre-incubated with 10 ng/mL VEGF for 30 minutes and incubated at 37, 5% CO
2
for 72 hours. Then, 10 μL CCK8 is added to each well and incubated for another 4 hours. The absorbance is measured by spectrophotometer at 450 nm to determine the cell viability
[2]
.
Animal Administration:
[2]
[3]
Rats
[2]
After modeling, ninety rats are randomly divided into five groups (eighteen rats per group) and receive a subconjunctival injection with 0.05 mL per rat of (1) 0.9% NaCl, (2) solvent, (3) 0.1% Dexamethasone (Dexamethasone sodium phosphate), (4) 25 mg/mL Bevacizumab and (5) 25 mg/mL FD006 in the superior temporal conjunctiva on the day after modeling. All chemical burns and treatments are performed by one investigator. The operator is blinded to the treatment group from which each cornea is derived. At postoperative days 3, 7, 14, 21 and 28, the eyes are harvested for further studies after the rats are sacrificed with an overdose of 10% chloral hydrate.
Mice
[3]
Five-week-old Balb/cAnNCrlBR athymic (nu+/nu+) mice are injected into the fourth mammary fat pad with MDA-MB-468 cells (10
7
cells per mice) resuspended in 200 μL of Matrigel. Seven days after the tumor cell injection, tumor-bearing mice are randomly assigned (n=10 per group) to receive the following: NVP-LDE225 20 mg/kg per os every day for 4 weeks; Bevacizumab 5 mg/kg intravenously (i.v.), twice a week for 4 weeks, or a combination of these agents with Paclitaxel i.v. 10 mg/kg once a week for 4 weeks. Tumor diameter is assessed with a vernier caliper, and tumor volume (cm
3
) is measured.
References:
Di Mauro C, et al. Hedgehog signalling pathway orchestrates angiogenesis in triple-negative breast cancers. Br J Cancer. 2017 May 23;116(11):1425-1435.
Wang Q, et al. Pharmacological characteristics and efficacy of a novel anti-angiogenic antibody FD006 in corneal neovascularization. BMC Biotechnol. 2014 Feb 27;14:17.
Tan H, et al. 99mTc-labeled bevacizumab for detecting atherosclerotic plaque linked to plaque neovascularization and monitoring antiangiogenic effects of atorvastatin treatment in ApoE-/-mice. Sci Rep. 2017 Jun 14;7(1):3504.
We apologize for the inconvenience. The Certificate of Analysis you requested is not currently available on-line:
1. The Lot Number you requested may have been entered incorrectly. How to get a Lot Number
2. The COA of the Lot you requested has not been added to our database.
Tags:Bevacizumab supplier,Bevacizumab purchase,Bevacizumab manufacturer,Bevacizumab sigma,Bevacizumab distributor,cost,Bevacizumab buy,Bevacizumab for sale